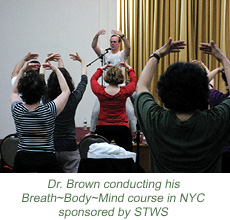 SERVING THOSE WHO SERVE, INC. (STWS)
is a nonprofit organization dedicated to the health and well-being of people affected by 9/11, Hurricane Sandy, the BP Oil Spill in the Gulf, as well as armed forces personnel and veterans. STWS' work began in 2002 serving both 9/11 first responders who served at Ground Zero and related sites and area workers and residents. Eleven and a half years after 9/11,
tens of thousands of people are still sick and many more are at risk.
Many people exposed to the toxins present when the World Trade Center was destroyed are still experiencing respiratory problems, as well as memory loss, inability to focus, fatigue, anxiety and even depression because of exposure to heavy metals and other toxins at Ground Zero. The consequences of their selfless service has affected their health, families, lifestyle and future. Many of the same health challenges are being experienced by people affected by the BP oil spill in the Gulf. More and more information continues to surface about the long-term health risks from the resulting exposure at the 9/11 sites and from the BP oil spill.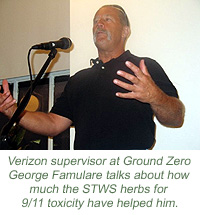 One of STWS' main programs is herbal formulas from the distinguished US-based Ayurvedic company
Banyan Botanicals
. The herbs are listed as dietary supplements by the FDA. The STWS herbal program consists of 4 herbal supplements that can be safely integrated with a participant's current health protocol. These herbal formulas gently detoxify the body and build up the immune system.
Most of the 9/11 responders and people affected by the BP oil spill who have taken the herbal formulas for the recommended minimum of 6 months report relief from the symptoms of 9/11 and BP oil spill illnesses. These health improvements are often dramatic.
To learn more about the STWS herbal program and to sign up for it please
click here
.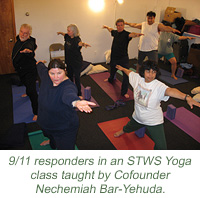 Our other main program is Breathwork and Meditation workshops taught by world-renowned Integrative Psychiatrist Dr. Richard Brown.
These workshops have been offered to members of the 9/11 community, people affected by the BP oil spill, Hurricane Sandy, armed forces personnel and veterans. There are many studies in peer-reviewed journals that show that breathwork and meditation can have dramatic results to help people heal from the worse kinds of trauma, including natural and man-made disasters.
Our other programs include
Yoga by Donation
, energy healing, acupuncture for stress, reflexology and stress management workshops.
Over 2700 people affected by 9/11 have gone through our programs, including over 1200 members of the FDNY. Our goal is to assist in the healing process of the 9/11 community, the Gulf of Mexico community, those affected by Hurricane Sandy, and armed forces personnel and veterans who are struggling with health issues because of exposure to severe stress, environmental toxins, or manmade or natural disasters.