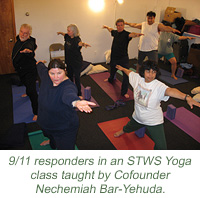 Our other main program is Breathwork and Meditation workshops taught by world-renowned Integrative Psychiatrist Dr. Richard Brown.
These workshops have been offered to members of the 9/11 community, people affected by the BP oil spill, Hurricane Sandy, armed forces personnel and veterans. There are many studies in peer-reviewed journals that show that breathwork and meditation can have dramatic results to help people heal from the worse kinds of trauma, including natural and man-made disasters.
Our other programs include
Yoga by Donation
, energy healing, acupuncture for stress, reflexology and stress management workshops.
Over 2700 people affected by 9/11 have gone through our programs, including over 1200 members of the FDNY. Our goal is to assist in the healing process of the 9/11 community, the Gulf of Mexico community, those affected by Hurricane Sandy, and armed forces personnel and veterans who are struggling with health issues because of exposure to severe stress, environmental toxins, or manmade or natural disasters.