STWS Invites You to Our 2nd Concert for Puerto Rico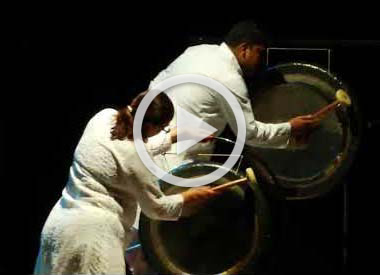 Sacred Sound Healing & Stress Reduction Concert For Puerto Rico
With The World-Renowned Gongs & Tibetan Singing Bowls Master
Satya Brat
And An Ensemble of Professional Players He Has Trained
April 6th, 2019 from 7:00PM to 9:30PM
Judson Memorial Church
155 Washington Square South
Enter from 243 Thompson and use the elevator to the 3rd Floor

Followed by an auction of modern and rare antique Tibetan Singing Bowls and Energy~Body~Mind Healing Sessions
This event is a unique opportunity to experience deep healing while supporting STWS' efforts to healing people in Puerto Rico.
Tickets cost between $30 and $50 depending on the row and there is an Early Bird Discount for registering early.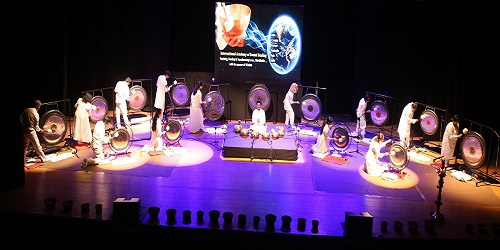 For a description of the Sacred Sound Concert Healing and Stress Reductions benefit visit Satya Brat's website at https://iash.in and click on the sacred-sound-wellness-concert link; or
click here
.
If you can't attend the event, we invite you to support the healing of people in Puerto Rico's Vieques Island by clicking here:
Any donation to this event is tax-deductible
Serving Those Who Serve (STWS) is a nonprofit that was formed to provide holistic healing modalities to people affected by 9/11. Since then STWS also works with veterans, active duty personnel, people affected by Hurricane Sandy and refugees.
STWS is organizing this sacred sound concert in partnership with Satya Brat's International Academy for Sound Healing and the Judson Memorial Church. This year STWS will provide its Ayurvedic Detox and Immune Support Herbal formulas for people in Puerto Rico affected by Hurricane Maria. STWS is also planning to send a multi-disciplinary team of trauma therapists and holistic healers to Puerto Rico this year.
STWS is especially looking to work in Puerto Rico's Vieques Island.
As a result of 60 years of US Navy using Vieques Island as a testing ground for radioactive ammunition, people who live in the Island are eight times more likely to die of cardiovascular disease and seven times more likely to die of diabetes than others in Puerto Rico, where the prevalence of those diseases is much higher than U.S. rates. Cancer rates are 30% higher than they are on Puerto Rico's main Island, hypertension rates are nearly 400% higher and roughly 80% of residents test positive for heavy metals like lead, mercury and arsenic.
STWS Yoga By Donation Program Is Greatly Expanded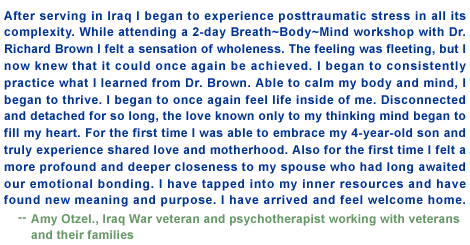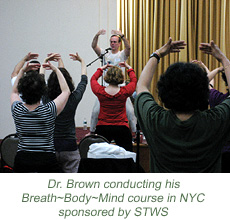 Serving Those Who Serve, Inc. (STWS)
is a nonprofit organization dedicated to the health and well-being of people affected by 9/11, Hurricane Sandy, the BP Oil Spill in the Gulf, as well as armed forces personnel and veterans by offering them holistic and integrative healing modalities.
Over 2700 people affected by 9/11 have gone through our programs, including over 1200 members of the FDNY and 400 veterans and armed forces active duty personnel. Our goal is to assist in the healing process of the 9/11 community, the Gulf of Mexico community, those affected by Hurricane Sandy, and armed forces personnel and veterans who are struggling with health issues because of exposure to severe stress, environmental toxins, or manmade or natural disasters.
STWS' work began in 2002 serving both 9/11 first responders who served at Ground Zero and related sites and area workers and residents. Eleven and a half years after 9/11, tens of thousands of people are still sick and many more are at risk.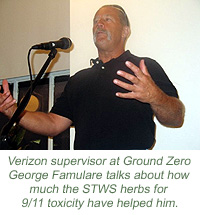 Many people exposed to the toxins present when the World Trade Center was destroyed are still experiencing respiratory problems, as well as memory loss, inability to focus, fatigue, anxiety and even depression because of exposure to heavy metals and other toxins at Ground Zero. Perhaps many more suffer from Trauma and PTSD.
Many of these same health challenges are being experienced by veterans, active duty members of the armed forces and people affected by the BP oil spill in the Gulf and Hurricane Sandy. More and more information continues to surface about the long-term health risks from the resulting exposure at the 9/11 sites, the BP oil spill and exposure to combat.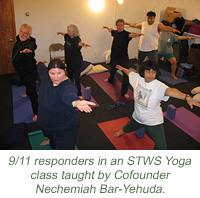 One of our programs are Breathwork and Meditation workshops taught by world-renowned Integrative Psychiatrist Dr. Richard Brown.
These workshops have been offered to members of the 9/11 community, people affected by the BP oil spill, Hurricane Sandy, armed forces personnel and veterans. There are many studies in peer-reviewed journals that show that breathwork and meditation can have dramatic results to help people heal from the worse kinds of trauma, including natural and man-made disasters.
Another program is herbal formulas from the distinguished US-based Ayurvedic company
Banyan Botanicals
. The herbs are listed as dietary supplements by the FDA. The STWS herbal program consists of four herbal supplements that can be safely integrated with a participant's current health protocol. These herbal formulas gently detoxify the body and build up the immune system.
Most of the 9/11 responders and people affected by the BP oil spill who have taken the herbal formulas for the recommended minimum of 6 months report relief from the symptoms of 9/11 and BP oil spill illnesses. These health improvements are often dramatic.
Our other programs include
Yoga by Donation
, acupuncture for stress, reflexology and stress management workshops.
To learn more about the STWS herbal program and to sign up for it please
click here
.