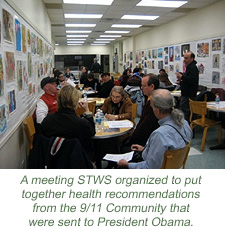 On December 30th 2008, Serving Those Who Serve and 9/11 Health Now answered the request of President Obama to have nationwide community meetings on health care reform by holding a community meeting dedicated to 9/11 health care reform. The goal of the meeting was to communicate to the Obama team that reform of the federal government's weak response on all 9/11 issues, especially health care for the 9/11 community, must be part of the overall reform of the health care system.
A diverse number of people representing many parts of the 9/11 community attended. We broke up into small groups to discuss the problems and our solutions, and we then met as a whole to forge a consensus as to what recommendations we wanted to present to the Obama administration.
Below is an excellent 9/11 Health Crisis Fact Sheet put together by Claire Calladine, Executive Director of 9/11 Health Now, which we used as starting point to our discussion, as well as the recommendations from all the groups put together by Claire and Jose Mestre, Executive Director of STWS, which we forwarded to Obama. They are both very short documents and we welcome any feedback.