The purpose of these 4 herbal formulas is to boost the immune system, heal the respiratory system and eliminate heavy metals and other toxins from the body, therefore, reducing the symptoms caused by them. Symptoms are varied but may include sinusitis, WTC cough, bronchitis, gastrointestinal discomfort, sleeplessness, memory loss, lack of focus, depression and joint pain.
The herbal supplements we offer are natural Ayurvedic formulas. Exposure to the toxins released at Ground Zero, and spread to surrounding areas, has resulted in impaired physical, emotional and psychological health and well-being in many who were exposed.
Ayurveda is the traditional "science of life" with its origins in India dating back 5000 years. It is acknowledged and promoted by the World Health Organization as a safe and effective means of correcting health problems and is quickly gaining popularity in the West. Ayurveda is based on one guiding principle: address the root cause of an ailment rather than its symptoms. The STWS herbal supplements aim to eliminate heavy metals and other toxins as the root cause of a variety of related ailments. Over 2700 people have taken our herbal formulas and/or our Breathwork and Meditation workshops, including over 1200 members of the FDNY.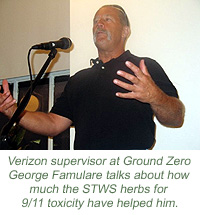 The 4 formulas come from Banyan Botanicals.
Banyan Botanicals was founded in 1996 by two of Dr Vasant Lad's students and former staff members. Banyan continues to maintain a close relationship with Dr. Lad and his Ayurvedic Institute as one of their main suppliers for Ayurvedic herbs and products. Banyan also continues to employ several graduates of Dr. Lad's program. Banyan is the industry leader in certified organic Ayurvedic herbs. It employs recognized Ayurvedic experts and qualified botanists in India and Sri Lanka to insure the purity and potency of the herbs, as well as independent US labs for heavy metal testing.
They've had a high rate of success helping those who were suffering from toxicity due to extended exposure to environmental toxins. Participants in the STWS cleanse have reported benefits ranging from the subtle awareness of increased well-being to the elimination of persisting symptoms.
These formulas were carefully designed to be integrated with Western medical health protocols and any other health modality you may currently be using. We do not give out medical advice and do not suggest that you stop taking other medication without consulting your physician. However, we do have health professionals as our advisors who are well-versed in the detox process and these herbal supplements who can address participants with specific concerns.
The 4 herbal formulas are:
Lung Formula - works to dislodge toxins that have nested in the membranes of the respiratory system. These are the toxins that cause coughing, dryness, the conditions of bronchitis, asthma, etc.
Triphala for Detox - flushes the toxins out of the system once they begin to loosen up. Because it uses the body's own natural healing system, the toxins are removed through natural paths of eliminations - mucus, digestion, sweat and mostly through your bowel movements.
Mental Clarity - a mind-nourishing formula that decreases the symptoms of neurotoxins such as foggy thinking, forgetfulness, memory loss, sleeplessness, heavy fatigue, depression etc. The brain is an organ too and can be affected just the same as the lungs, heart, etc.
Immune Support - builds the immune system back up and restores stamina and vitality. It also protects you against exposure to the same conditions in the future by establishing a higher resistance to toxins.
You can learn more about these herbs on this website under
Detoxification
.
The STWS herbal cleanse and immune booster package consists of 4 herbal supplements (tablets). You take one tablet of each of the herbs (a total of 4) once per day during the first week, then twice per day, preferably 15 minutes after breakfast (or your first food of the day) and dinner.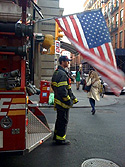 You may notice some subtle signs of detoxification. It's different for everyone. 99% of the time they are very mild. Taking them once a day for the first week also practically eliminates any detox effects. However, occasionally someone may feel as if they're about to come down with a cold, a temporary rash may appear or you might notice digestive changes like bloating, constipation or diarrhea. Don't worry - this is a good sign. It means that your body is in the process of eliminating toxins.
If you have any detox effects they almost always go away after a few days. If there are still any problems after a week of taking the herbs, call Betsy and we will call one of our advising health professionals.
If there are no detox effects or they are very mild, again what is the experience of 99% of the people who have taken the herbs, after the first week take them twice a day, fifteen minutes after breakfast and dinner.
For many people the herbs detoxing your body can be barely noticeable but this does NOT mean that arenít working. Because the herbs are natural as opposed to Western medication, they work gradually and gently in your system. Their effect may take longer to notice than what you're accustomed to with Western medication.
If you decide to begin the herbal cleanse, proceed and submit an Agreement Form. It will provide us with your contact info for our coaches and we'll use your email only to let you know about STWS or 9/11 info or events. Your agreement with STWS states that you will be under no obligation to STWS and that you agree to take full responsibility for your own health and healing process. The key words here are take responsibility for your health. Our responsibility is to provide the herbal formulas and fully serve you with our advice and support. It's your responsibility to take the herbs for the minimum 6-month period recommended. Take action now to eliminate toxins, boost your immunity and prevent reoccurring or future symptoms.
To get the herbs call Betsy Thomson at 267-373-9354.
The herbal formulas are $45 for a 90-day supply for as long as you want to take them and are ordered from Banyan Botanicals. This is an almost 50% discount from Banyan's retail price.
STWS is a not-for-profit 501 (c) (3) organization. Our services are to provide information and support, and to make these herbal supplements available to those who need them. We wish you all vibrant health and well-being.
If you wish to continue to the Registration Form click CONTINUE.